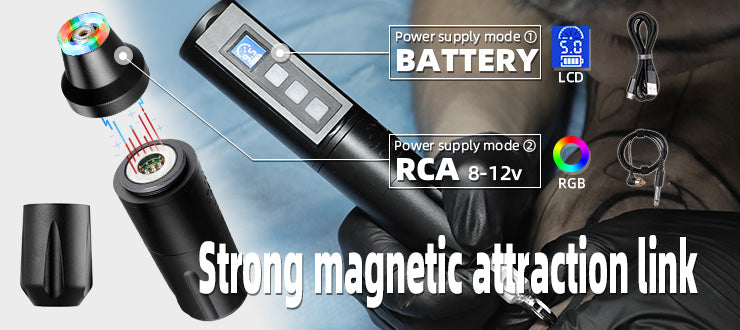 Instructions 

ON/OFF Button
Long press (on/off button) 2 seconds: power on 

Short press to pause (if stay in pause gear for more than 5 minutes automatically shut down in a low-power state) short press again to start the output normally.

Press and hold again for 2 seconds: power off
Voltage Buttons
Level Switching (13 level switching)
Up arrow button- level up 
Down arrow button- level down 
Voltage Indication: 12V is the fastest, 5V is the slowest
Pointer Indication
Level pointer indication (1 2 3 4 5 intervals from left to right )
The pointer level corresponds to the voltage display (the middle number values represent the voltage display)
Features
2 Types Of Charging
Solong EM139 Wireless Tattoo Gun can meet the demand of
wireless charging
, 
cut the cord, unleash wireless power, 
but also support traditional charging by
 RCA connection. 
EM139 Wireless Tattoo Gun
carries a user-friendly, rechargeable battery!
It runs on 1600mAh rechargeable batteries and can operate continuously for 10-12 hours depending on its speed and workload. The fully charged battery can be used for about 10-12 hours.  The USB-C port makes it possible to charge your wireless tattoo gun in your car, laptop, or from a battery pack.
Quiet, Low-Vibration Operation
Move more, worry less with this exclusive wireless tattoo gun design that gives tattoo artists more freedom and flexibility. It's ergonomic and lightweight, crafted from high-quality aircraft aluminum with a durable finish. 
Compatibility
This wireless tattoo gun offers incredible versatility and control no matter what tattooing style you prefer. Compatible with most membrane-style tattoo needles on the market. Best wireless tattoo machine for soft shading, fine lining, and color packing.  EM139 wireless tattoo machine pen both isolated the use of tattoo lines so that you can tattoo freely at any time and anywhere, but also maintain the durability and longevity of the traditional tattoo machines.
Parameters
Stroke: 3.5 mm
 Rated Voltage: 12V
 Operating Voltage: 5.0-12. 0V
 Charging Time: 2h
 Battery Capacity: 1600mAh (usually available 10h -12h)
Package
Wireless Tattoo Pen*1
Battery 1500mAh*1
Type-C Cord*1
RAC Cord*1
RCA Part*1
Replacement Grip*1
Black Packing Box*1
Warranty Service
Warranty Service include: arrange repairs, technical support, parts exchange, machine replacement.
Warranty for Rhein
Rhein Tattoo supply warrants the product will perform efficiently when used by a Professional Tattoo Artist. All machine body components not subjected to normal wear and tear will be covered under warranty for the life of the machine. The machine parts including motor warranty will be covered for 6 months from the date of placing your order.
Warranty for CNC
As a CNC certified partner, we offer the same services promised by the CNC website. 1-year warranty on all CNC machines. During this period, we guarantee any problems caused by defects in the quality of the machine itself. 
For other brand
We offer a 6-month warranty on any machine valued under $200 and a 1-year warranty on anything valued over $200.